Payment
PayPal is the safer, easier way to pay and get paid online. 
The service allows anyone to pay in any way they prefer, including through credit cards, bank accounts, PayPal Smart Connect or account balances, without sharing financial information.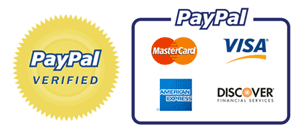 Do I have to have a credit card to use Paypal? 
No. There are three options, a credit card, or a checking account, or a savings account. For extra precaution and added security, you can choose to open a "play" account of sorts, just for your online buying needs.
Do I have to have a account of Paypal to check out ?
No, Paypal also offers the option for a one-time purchase with your credit card without having to setup a Paypal account at all.
To do this you don't need a PayPal account, but only an email address. Just go through the payment process on our website and, on the PayPal login screen, click "Pay with Debit or Credit card" or "Don't have a PayPal account?". Your Credit Card information will remain secure and the transfer will be handled only by Paypal.
If you cannot make a payment with Paypal, please contact us at any time.
We will send you a Paypal invoice in form of email.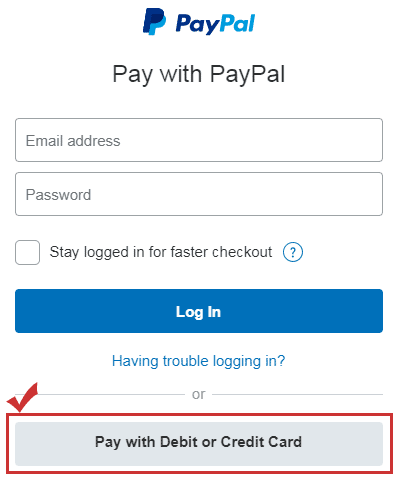 ** Troubleshooting PayPal payments **
Depending on a number of factors you could run into problems when paying at PayPal. Some common issues are:
I am not getting redirected to PayPal at all
Your browser's PayPal cookies might be messed up; you may try deleting your cookies to fix this.
PayPal is not accepting my credit card
Please double check the data you entered at PayPal's form. If everything is correct, chances are that you actually do own a PayPal account and that your credit card is associated with that PayPal account. If this is the case, then you will only be able to pay with that card by logging into your PayPal account. If this is too much trouble, then just try paying with a different credit card.
I can't find a "Don't have a PayPal account?" option
Unfortunately, PayPal does not allow direct credit card payments in all cases. Sometimes it is because of your location, or sometimes PayPal might believe by checking your browser's cookies that you actually own a PayPal account. You might try deleting your cookies to get around this.